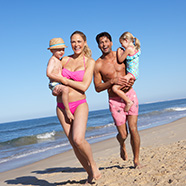 Wide open spaces, a large shady garden with children's games, swimming pool and whirlpool bath enjoyed by both big and small make this the ideal place for families, in which to enjoy a relaxing holiday with your loved ones and then have wonderful memories.
The ideal holiday for the whole family…
We pay particular attention to our smaller guests, as we have two small children of our own, Ludovica (5) and Edoardo (2) and we know what their needs are.
The beach in front of the Hotel (bathing area 84), is well equipped for children's needs: trampolines, air castles, beach games, play houses, swings, all inside a fenced-off play area so children can play safely. The daily baby club on the beach will involve the children in numerous exciting activities: bowls competitions, football games, sand-castle-building competitions, recreational games and anything that can entertain them. Every afternoon there are enjoyable group dances on the beach, for big and small.
Sterilising units and bottle warmers available for new mothers. During weaning, soft foods using meats, fish and vegetables are prepared by our professional chef Paola who has worked with us for over 10 years and who follows the mothers' instructions using only ingredients of excellent quality. We also use "Baby Pappa Sano Vapore" by Chicco which allows us to steam foods by preserving the quality and all the vitamins contained in the foods and allowing them to be finely liquidised resulting in a creamy consistency that is loved by little ones.